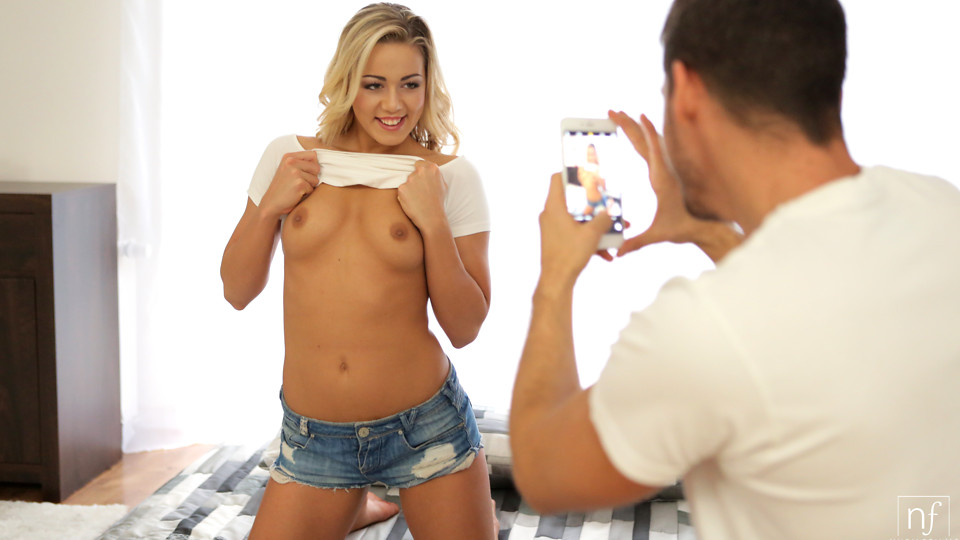 Christen Courtney and Kristof Cale are in a playful mood, wrestling and tickling each other on the bed. When things take a sexy turn, Kristof grabs his cell phone camera and points it at Christen, who is happy to perform a peek-a-boo show as she strips out of her shirt and short with Kristof filming.
While Christen reviews the footage of her tight lithe body, Kristof settles himself between her legs and goes to work licking and lapping at her landing strip twat. Christen loves the feel of her boyfriend's tongue fondling her clit, and her moans of approval are loud and breathy when Kristof gets his fingers into the mix.
Taking control of the situation, Christen climbs out from beneath Kristof's eager tongue and helps him out of his pants. Once his hardon has sprung free, she uses her hands and mouth to love every inch of his stiffie. She just can't get enough of gobbling her lover's cock but Kristof has other plans. Flipping Christen onto her back, he parts her thighs and slides into her welcoming heat.
Kristof's long seductive strokes in and out of Christen's twat get even deeper when she lifts her legs for a better angle. That new angle hits all the right spots, and soon Christen is shivering and panting as a climax rolls through her. She's not ready to call it quits, though; when Kristof lays down on his back, Christen positions her lush rump above his dick and slides down until he's buried deep in her landing strip twat. After a few short thrusts, she goes to town bouncing away to her heart's content.