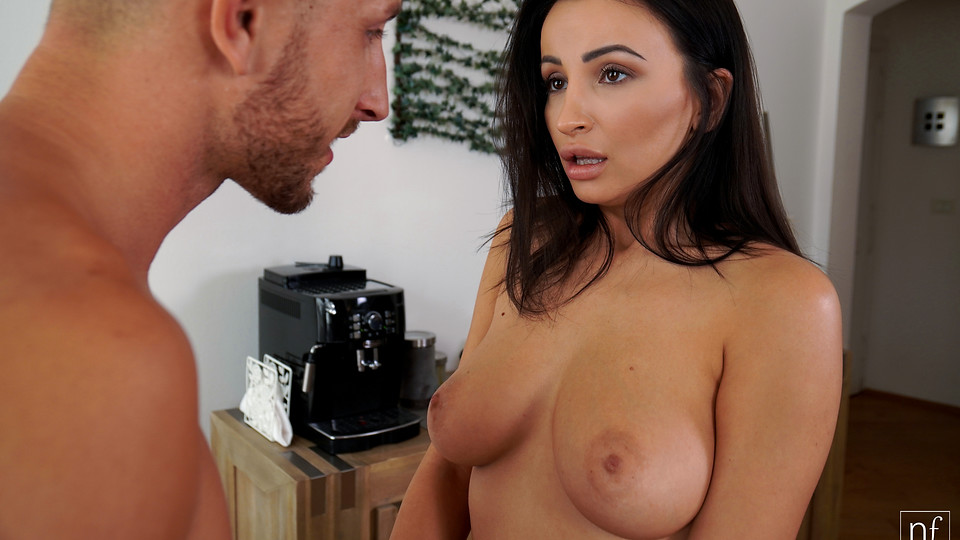 Jason X has come over to his girlfriend's place, and he brings with him the gift of donuts. Alyssia Kent is ecstatic to see Jason and his goodies, so she runs to greet him at the door. Rather than offering Alyssia a goodie when he opens the box, Jason instead covers his finger in whipped cream and opens Alyssia's robe to spread the sweet treat on her nipples. Once Jason is done licking her nips clean, Alyssia makes a mess of her own on Jason's lips.
Dropping to her knees with Jason's hardon in hand, Alyssia leans in for a taste of this new delight. She takes her time, enjoying the silken steel of Jason's fuck stick with her hands and then he mouth. Jason takes as much as he can stand in the moment before disengaging those puffy lips from his dick so he can lead Alyssia to the couch and bury his face between her thighs.
Alyssia could enjoy herself all day with Jason's skilled tongue making magic on her clit, but there's so much more to experience than oral sex. Jason proves it as he lifts one of Alyssia's legs until her ankle locks against his neck. Sliding into her greedy warmth, he fills her up and starts thrusting.
The couple rearranges themselves so that Alyssia is on her hands and knees with Jason behind her. He slides on in, enjoying every inch of her tight wetness. Their doggy style pussy pounding gets even hotter as Jason reaches down to cup Alyssia's breasts and gradually urge her to stand up until her back hits his chest.