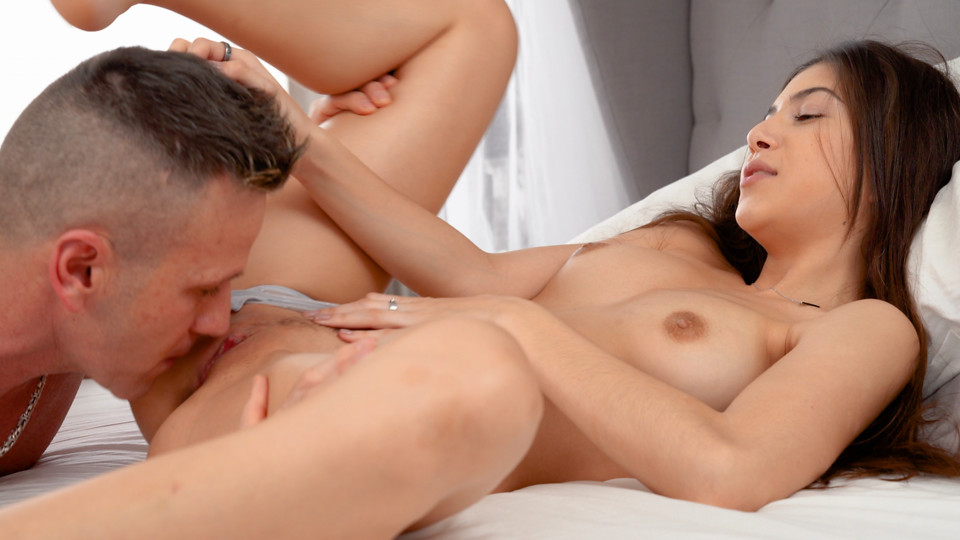 Anya Krey wakes up between the sheets with her boyfriend Choky Ice getting nice and handsy. She enjoys the warmth for a few moments, then rolls onto her back in an implicit request for more. Choky is happy to deliver, sliding his hand into Anya's panties as his soft lips seek out her nipples to suck them into tight little peaks.
Sliding down Anya's body, Choky makes himself at home between her thighs. His tongue follows the path his hands have blazed, lapping at the silky sweetness between. Lifting one leg high to invite Choky's continued ministration, Anya lets her head fall back as she enjoys the attention.
Never one to receive without giving in return, Anya waits until Choky has left her trembling and then gets to her knees in front of him. She pulls his hardon close, sampling the length with mouth and hands alike. Leaning in, she sucks him down as deep as she can to fully satisfy her urges.
Choky eventually urges Anya to turn around, still on her knees, and lean forward. Rubbing his hands all over Anya's ass, Choky enjoys the plump cushion as he lines himself up for ramming speed. Then he slides on in, enjoying the opening salvo of their coupling before picking up the pace to give it to Anya so hard and fast she finds herself with her back pressed against his chest.
Rolling onto her side, Anya lifts one thigh high so Choky can stay buried inside her tight twat. He spoons behind her, offering deep penetration with every thrust. The new position lets his hand sneak to Anya's clit so he can rub the sensitive nub as he brings her home.