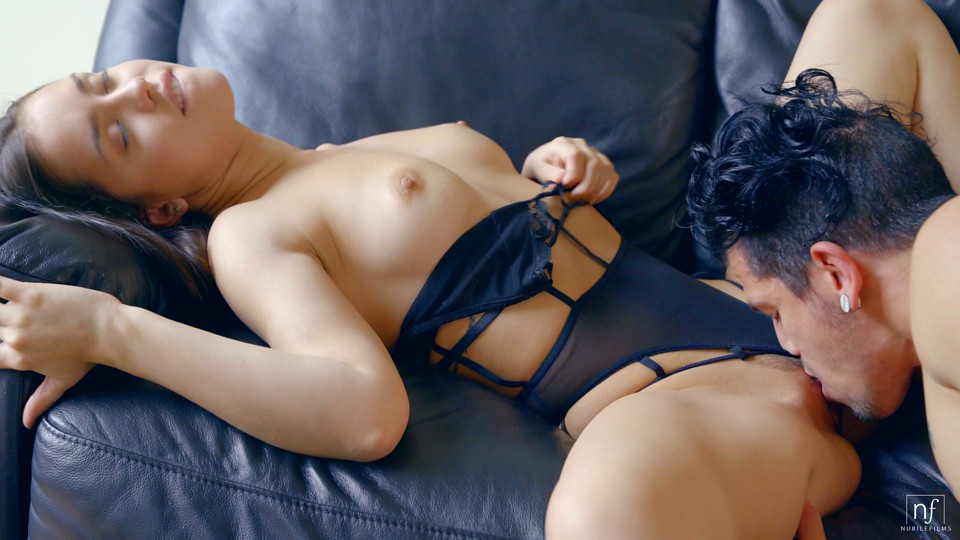 Bambino waits patiently for his girlfriend Alina Lopez, who has promised him a big surprise. When she struts into the room wearing just a sheer lingerie getup that hugs her breasts and ass, Bambino can't believe his eyes. Alina wastes no time climbing into his lap, stealing a kiss as Bambino fills his palms with the bounty of her bottom. Their makeout session escalates quickly as the heat of passion grips them both.
Laying Alina down on the couch, Bambino works his way on a delicious trip down her body. He makes a stop at Alina's tits, pulling them from her bra to suckle each breast. Then he kisses his way down her belly to his final destination between her thighs. Pushing aside the sheer material covering Alina's crotch, Bambino uses light touches with his tongue to tease his girlfriend. Her breath comes out in short gasps as Bambino makes magic with his mouth, kissing and nibbling between licks.
Relieving herself entirely of her lingerie, Alina gets on her knees so she's face to face with Bambino's hard dick. She flicks her tongue across the head, then opens her mouth for a better taste. As she licks and strokes, her blowjob gets increasingly enthusiastic until she's full on deep throating Bambino's big stiffie.
Still on her hands and knees, Alina turns around so Bambino can finally complete their mutual desire by shoving his dick balls deep into her hot pussy. She rocks back and forth with every stroke, helping set a pace that they both love. Keeping one hand on Alina's hip to anchor himself, Bambino plays stud as long as his girlfriend desires until she's ready to change positions.