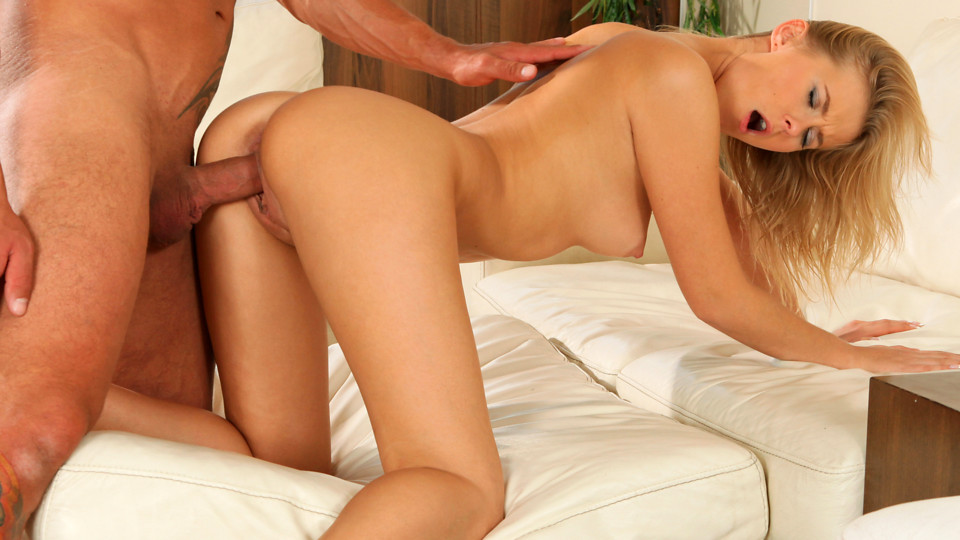 Casey has a surprise for Sabi as she sneaks up on the object of her desire. Her brand new outfit leaves her with easy access to her breasts, which Casey just knows Sabi will love. She takes a peek into the room to get the lay of the land, then takes a moment to caress her tender body as she works up the nerve to walk in on Sabi and take what she wants.
Taking the control from Sabi's hands, Casey fills his field of view with her lovely face while capturing a kiss. Sabi is indeed enamored by Casey's halter top. He undoes the tie, then fills his palms with the fullness of her perky natural breasts. Sliding his hands lower, he cups Casey's bottom before returning his attention to the hard nipple buffet right in front of his face.
Once he has revealed Casey's body to the waist, Sabi gets another one of the treats that his hot lover has in store for him. She unzips his pants and lets his hardon spring free. Taking Sabi's stiffie in hand, Casey strokes him and then leans in to run the flat of her tongue up and down the length of his cock. Soon she is contentedly slurping and sucking away as her hips move in the same rhythm that her mouth pulls on Sabi's man meat.
Sabi finishes relieving Casey of her outfit and then settles himself on his belly between her thighs. His tongue is busy as he probes her slippery slit. Finding her clit, he focuses on that button of nerves until Casey's breath is coming in gasping moans. Then he curls up behind her and slides into her tight warmth from behind as he spoons with her on the couch.