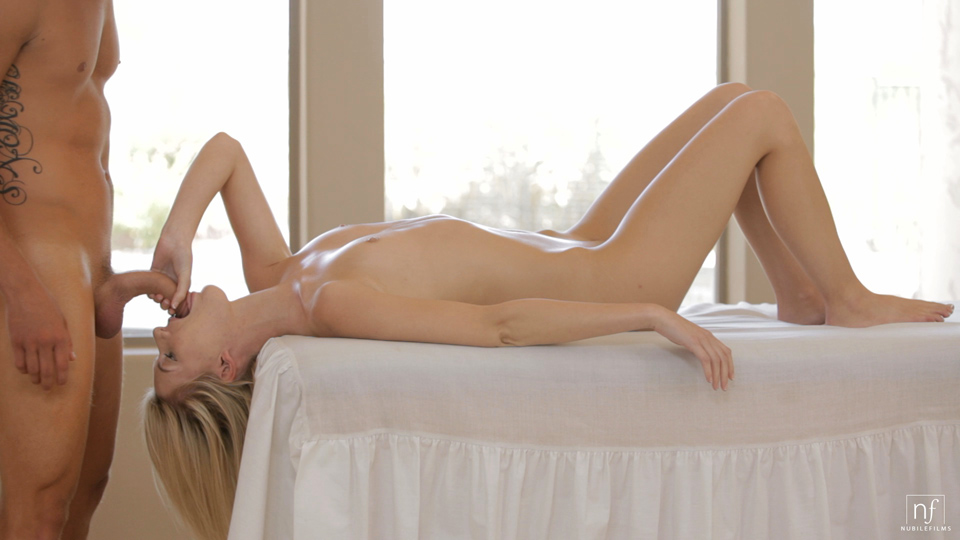 Chloe Brooke is nude and relaxed as she enjoys the touch of her man Van Wylde's hands all over her body. The massage starts off innocently enough, with Van covering his woman's bottom and legs in oil. When his touch slides down to spread the oil all over her shaved pussy, Chloe can't be a passive participant any longer.
Leaning backwards with her head falling over the table, Chloe pulls her man's briefs down and uses her small hands to guide his erection into the warmth of her mouth. Van's hips pump gently as he enjoys the velvet caress of Chloe's lips and tongue.
Next, Van settles between Chloe's legs and laps eagerly at the juiciness of her slit. His persistent mouth and tongue soon leave the blonde kneading her slicked up breasts and moaning in pleasure.
When Chloe's pussy juices are flowing freely, Van stands up and slides his hard cock deep into her tight twat. He settles into a steady rhythm that drives his woman wild while simultaneously rubbing her clit to increase her pleasure.
Needing to change things up, Chloe wraps her arms around her man's neck and then lets him lift her up. She is so slender that she bounces easily as Van lifts her up and down on his dick, creating delicious friction for both of them until she reaches her climax on a high moan of ecstasy.