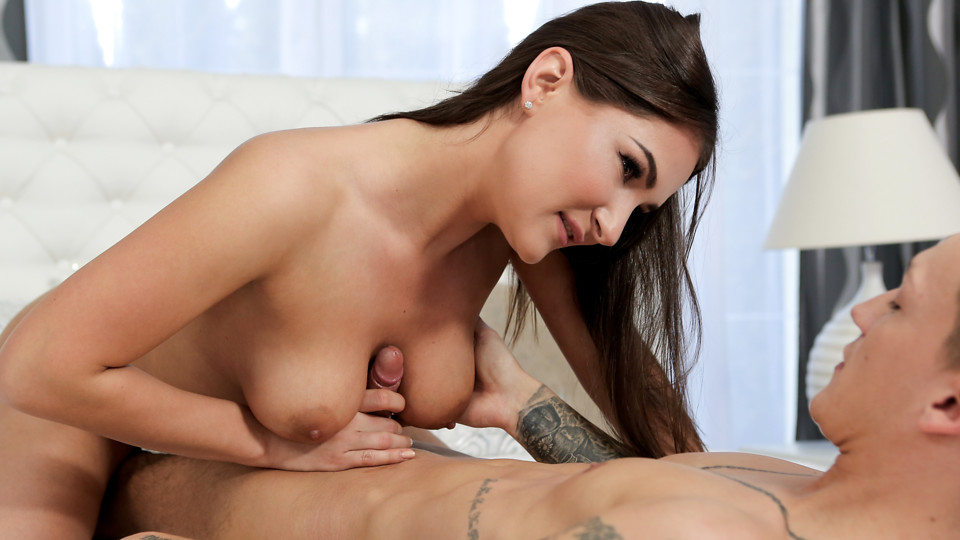 Gorgeous Russian Ellen Betsy is happy to give a massage to her boyfriend Dom Ully provided that he makes it worth her while in the end. She starts by drizzling Dom with oil before directing the bottle to pour a liquid stream all over her medium boobs and large areolas. After rubbing her own tits down, she leans forward to press her breasts to Dom's back for a boobie massage.
Turning Dom over on his back, Ellen removes the towel from his waist and leans forward to start sucking him off. Her full lips put just the right amount of pressure on her boyfriend's stiffie as her hand strokes it nice and slow. Opening her mouth wider, she runs her soft tongue over the whole of Dom's shaft before rearing back and reapplying the oil to her titties.
Leaning forward, Ella groans in excitement as Dom strokes and squeezes her bazongas. Then she presses them together as his hands guide her, creating a channel that he can slide his dick into. Her tittie fuck is slow and sweet, leaving them both primed to get down and dirty together. Wet and eager to be penetrated, Ella slides down on Dom's fuck stick for a sweet and steady stiffie ride.
Once Ella has climbed off of Dom, her lover goes to his belly between her thighs to press his face to the moist heart of her desire. His tongue works magic as he licks and probes her meaty snatch, but it's his fingers that truly bring Ella to the brink of cumming as he slides two knuckle-deep into her pussy. When he combines his tongue and his fingers, she comes apart in his arms.