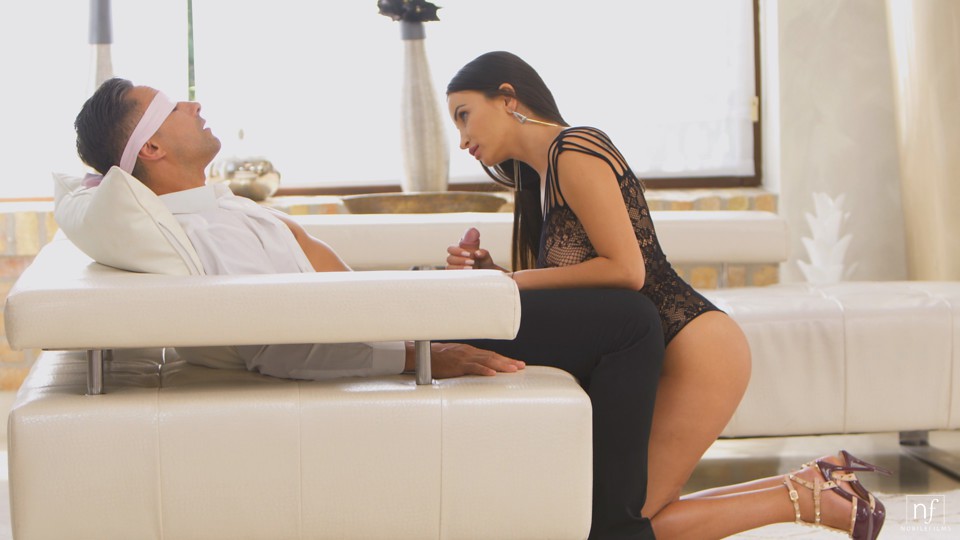 Alyssia Kent is sleek and sexy as she dons mile-high heels and a sheer teddy. Murgur enjoys watching his stunning girlfriend get ready, but imagine his surprise when she turns around from the mirror and struts across the room while holding out a blindfold. Always open to kinky play, Murgur stays nice and still as Alyssia covers his eyes so she can have her sensual way with him.
Leaning over Murgur's shoulder, Alyssia presses her palms to her boyfriend's chest and lets them slide slowly lower. The flat plane of his chest entices her to walk around and kneel before Murgur's powerful body. Pulling out his already-hard dick, she leans in to start sucking. When that's not enough to satisfy her sensual itch, she pops her full breasts from her lingerie and pushes them together for a titty fuck.
Pulling aside the bottom of her thong, Alyssia climbs into Murgur's lap and slides home on his stiffie. She leans in, taking the opportunity to relieve him of his blindfold as she slowly, inexorably rides until she reaches the first peak of her satisfaction. When Alyssia falls back and lets Murgur take the lead in their erotic dance, he finally relinquishes the tight control he has maintained over himself and goes to town dominating that cream filled fuck hole.