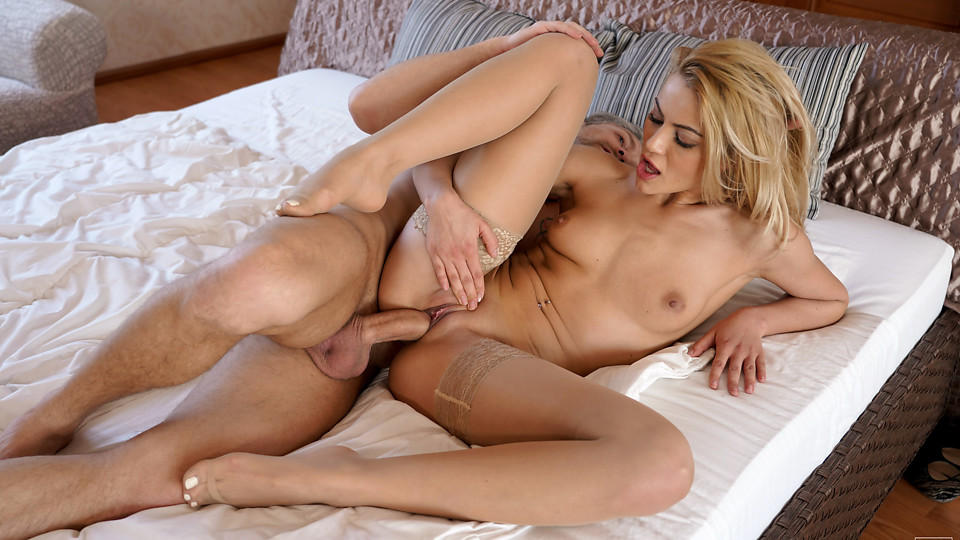 Blonde beauty Cherry Kiss struts her stuff in a lingerie getup comprised of a bra and thong, along with a set of thigh-high stockings. Kicking off her heels and making herself comfortable on the bed, Cherry feels up her breasts and slides her underwear aside before calling her favorite fuck buddy over to help her out. While she waits for Lutro to arrive, Cherry is eager to pull her panties into her cooch and rub her clit in a masturbation session that leaves her body thrumming with excitement.
When Lutro walks in the door and sees Cherry laid out before him like a gift, he's quick to accept her invitation to join in. Making sure his lover comes first, he drops to his belly between her thighs and goes to work with his hot mouth. His five o'clock shadow scrapes against Cherry's thighs as he works his lips and mouth for her pleasure. When Cherry lifts one leg, Lutro takes the unspoken invitation to bury his fingers in her twat and press his hand to her clit.
As Cherry enjoys the first of what she hopes will be many climaxes, she busies herself peeling Lutro's pants off and filling her mouth with his big dick. She is thorough in her ministrations, deep throating to take as much as she can into her mouth and then licking her way down to Lutro's balls. Then he holds his fuck stick steady as Cherry slides down onto his fuck stick for a stiffie ride in her cock hungry bare twat.