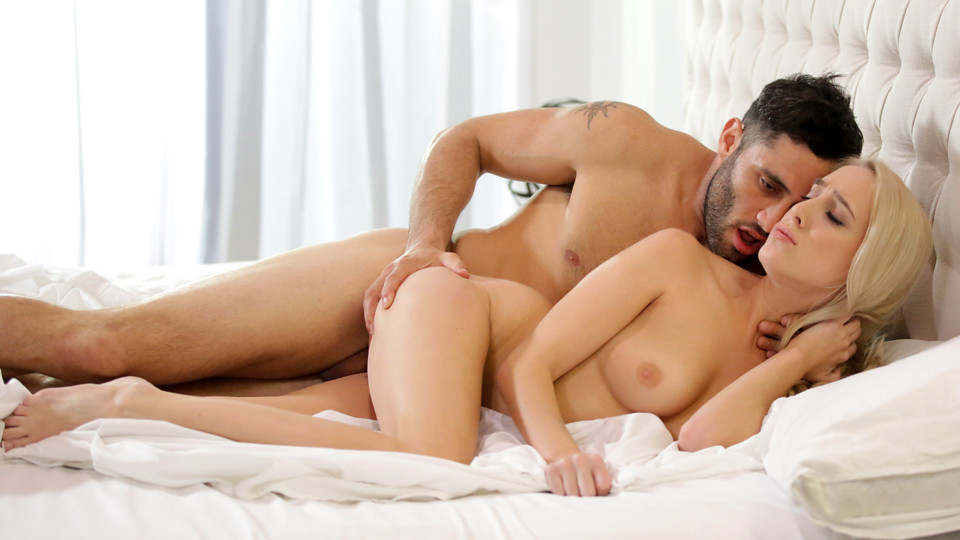 Damon Dice can't wait for Cadence Lux to wake up so that he can indulge in another round of lovemaking. His naked girlfriend manages to sleep through him tickling the bottom of her feet, but as he licks his way up her leg and then presses the tip of his tongue to her tight anus Cadence finally opens her eyes. Turning onto her back, she spreads her legs so that Damon can have full access to the spot he loves best.
Touching his tongue to Cadence's clit, Damon keeps things slow and steady despite his lover's instant moans. His hand creeps forward to continue fondling Cadence's anus, a move that only stops when Damon slips his finger into her creamy twat to give her pleasure from the inside out.
Reaching out to cup Cadence's breast, Damon gives the globe a squeeze and then moves up to lick at her tight nipple while she takes over her pussy rubbing. This frees Damon's hand to go back to work tantalizing Cadence's ass, a move that leaves her horny and desperate for more.
Whipping out his hard cock, Damon curls up behind Cadence so that they are spooning together as he presses into the deep warmth of her tight slit. Loving every minute of the fullness that her needy twat craves, Cadence opens her mouth and moans loud and proud with each stroke. Her landing strip snatch pulses with ecstasy as Damon continues to thrust his hips, leaving her temporarily sated.
As soon as Cadence has reached the pinnacle of her pleasure, she climbs to her knees while Damon gets on his back. Now it's Cadence's turn to indulge her oral fixation by licking and sucking Damon's dick to her heart's content. She takes her time, enjoying every last inch of her rock hard treat while maintaining passionate eye contact with her lover the whole time.