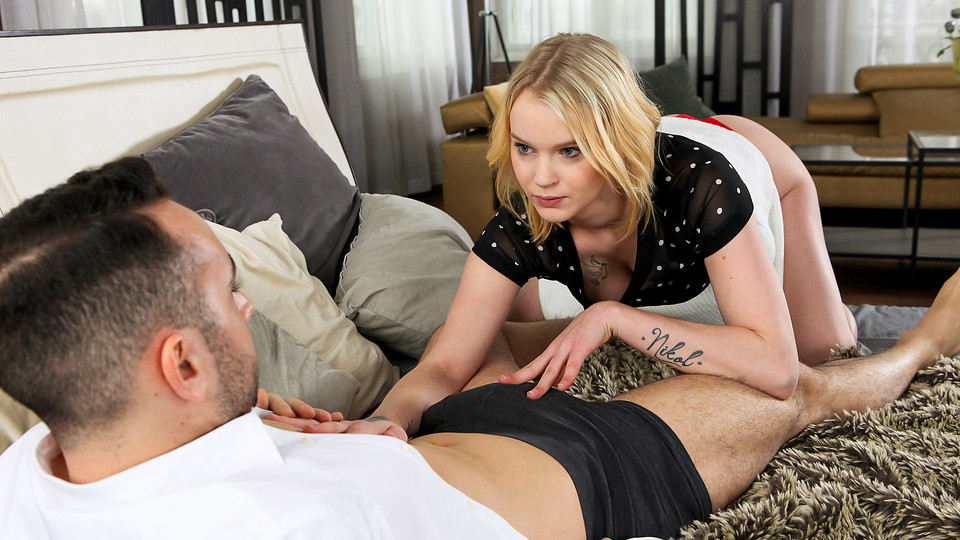 Amateur cutie Ariela Donovan is eager for her date with Raul Costa. She takes her time getting herself all did up, from putting on her cute heels to choosing a dress that shows off her lovely boobs. The fluffy skirt hitches up for a nice peek at Ariela's ass and thong.
When Ariela joins Raul in the bedroom, he is already lounging and clearly hard for her. She crawls onto the bed and runs her hands up Raul's firm body before coming in for a kiss. When Ariela works her way back down Raul's body, she finds his stiffie and opens wide to start sucking. A deep throat BJ is just what this hot number needs to really get her motor running.
Pushing Ariela onto her back, Raul lifts her miniskirt and relieves her of her thong. He finds the heart of Ariela's passion nice and wet. While Raul dives deep in his pussy feast, Ariela peels her dress off so that she can play with her tits and rub her nipples to hard peaks beneath her bra. She's so wet and ready that it's a simple thing for Raul to roll her onto her side so he can slide into her from behind in a spooning fuck.
Rolling Raul onto his back, Ariela climbs on top and sinks back down on his hardon. Her reverse cowgirl ride makes it simple for her to slide her hand forward and rub her own clit. When she turns around and really starts working their hips, her full boobs swing in Raul's face so that her nipples are titillated by the feel of brushing against his stubble.