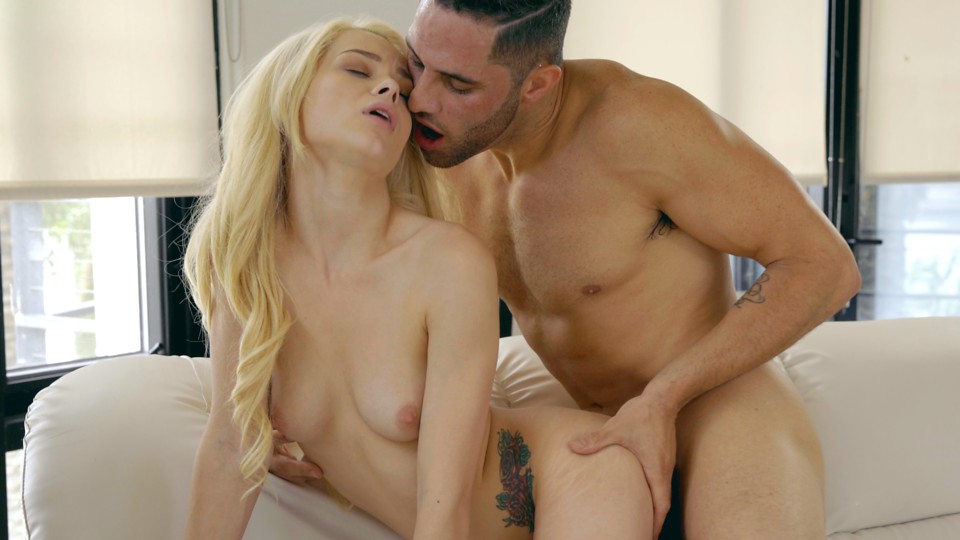 Damon Dice is taking a nap on the couch when his girlfriend Elsa Jean finds him lying there. Just the sight of Damon gets Elsa hot. Sliding her hand up, she cups her bare pussy beneath her miniskirt and thong. Then she gropes her small boobs and decides to climb on top of Damon. Licking her way up his chest, Elsa gives him the sweetest of wakeups.
Damon responds instantly, his dick growing hard as his hands reach down to cup Elsa's slim bottom. She slides down his body once again, relieving him of his briefs along the way. Taking his hardon in hand, she laps up and down his shaft and circles the head with her tongue before diving in. Her long slurping suction is a spark to Damon's desire as her blowjob grows ever-more enthusiastic.
Leaning back to slip out of her dress, Elsa smiles with delight when Damon reaches out to cup her breasts and pinch her hard nipples. Pulling her close, Damon sweeps his tongue across one tight bud and then the other. Reenergized, Elsa goes back to work on her interrupted BJ.
When Damon leans Elsa back onto the couch and spreads her thighs, she reaches her hands up to cup her breasts. He pulls her thong aside to slide two fingers deep into her tight cooch, and then slips them down her long legs. Continuing to use his fingers to Elsa's delight, Damon dips his head forward to add his tongue into the mix.