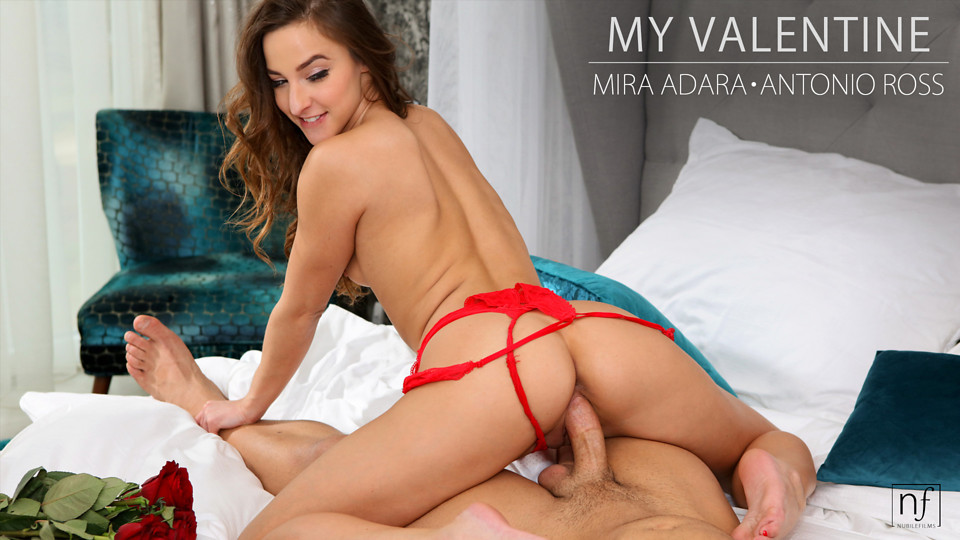 Amira Adara has a Valentine's surprise for Antonio Ross as she enters the room wearing nothing but some red lingerie. Antonio has a surprise of his own, much to Amira's delight when she sees a trail of rose petals leading to the bed where she finds a stuffed animal and roses. When Antonio peeks around the corner, Amira welcomes him to bed with a smile and a deep kiss.
Reaching down to cup Amira's ass is merely an appetizer for Antonio, who quickly moves on to sampling each of her hard little nipples. Amira isn't about to let Antonio have all the fun with his mouth. She gently disengages and pops Antonio's hardon free from his jeans so she can wrap her small hand around the shaft and draw him close to her mouth. Parting her lips, she flicks out her tongue before engulfing him in the hot wetness of her eager mouth.
Crawling up Antonio's body, Amira drops another sweet kiss on his lips before turning around and scooting down his chest until her twat is positioned above his erection. He holds himself steady as Amira slowly slides down until she's fully impaled. Rocking her hips, she kicks off a sweet and sexy ride that follows a primal rhythm of pure satisfaction.
Antonio didn't get to indulge in a pussy feast, so when Amira climbs off his dick he lays her down on the bed and picks up where he does exactly that. He relieves her of her lingerie, then feels her heat with the palm of his hand before diving in. When her juices have coated his tongue, he spoons behind her and shoves all the way back inside.