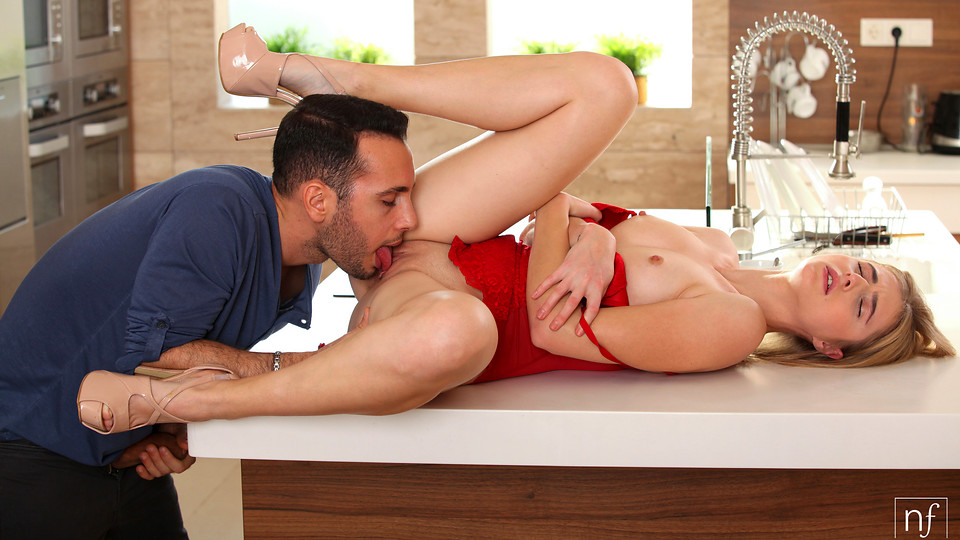 A simple sundress that covers her red lingerie are all that Aria Logan is wearing as she walks into the kitchen to grab some coffee. She doesn't make it to her goal before Raul Costa has come up from behind to start peppering her neck and then her lips with kisses. Hitching Aria onto the counter, Raul explores the territory beneath her miniskirt as he slides her dress to the ground.
Taking his time now that he has unveiled Aria's bodysuit, Raul unsnaps the crotch to flick Aria's meaty pussy with his magic fingers. He leans her over the counter so he can drop to his knees and feast on her cream filled center. Then Raul gets Aria onto the counter so he can dine on her breasts before resuming making magic with his tongue buried in her twat.
Aria is happy to let Raul enjoy himself to the utmost, but she won't let her pleasure be denied, either. She waits until Raul has gotten her off, then hops onto her feet when his back is turned. Pulling out Raul's dick, Aria strokes it from behind. When Raul turns to face her, she drops to her knees and starts sucking in a hot and heavy BJ that lasts until they're both ready to fuck.
Settling down on a kitchen chair with her legs held high in the air, Aria opens herself up to welcome Raul deep inside. He obliges her, shoving himself all the way in. That position is nice, but what Aria actually needs is a deeper penetration. She and Raul swap places so that Aria can slide down on his hardon until she's fully impaled and ready to take control of her stiffie ride.