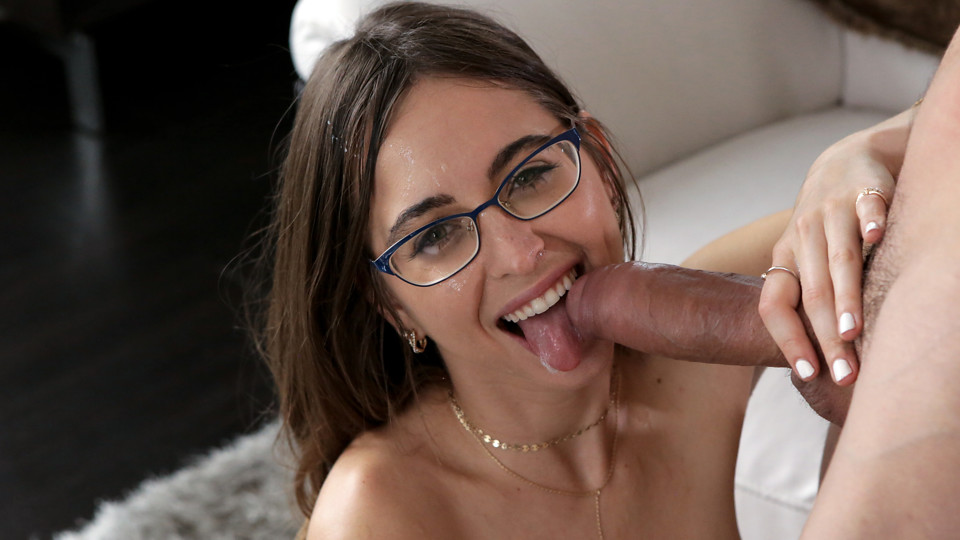 Puffy nipple babe Riley Reid is ready to interview Bambino for the position of pleasuring her. Both of them are dressed to impress in their business finest, each of them looking hot as hell. They try to focus on the business at hand, but the moment Riley is distracted Bambino acts on their flirting to come up behind her and deliver a deep kiss.
Instantly putty in Bambino's arms, Riley presses close while Bambino lifts her miniskirt to expose her thong, then lets Bambino put her up on the counter. Soon her hands are working overtime unbuttoning Bambino's shirt as he covers her mouth in kisses. When Riley puts one foot up on the counter to open herself up, Bambino takes the hint and drops to his knees so he can press kisses along her inner thighs.
Tugging Riley's thong aside, Bambino applies himself to her pleasure. Riley guides her lover with her long moans and sighs of bliss. When she hops off the counter and kneels before Bambino, Riley is able to give as good as she got in the form of stroking and sucking her lover's big dick. Soon Bambino has wound his hands in Riley's hair so he can anchor himself to properly fuck her face as she deep throats his cock.
Relocating to the living room, the two discard all pretense at business along with most of their clothes. Riley quickly finds herself on her back with one high heeled foot in the air and Bambino's stiffie buried between her thighs. She reaches down to rub her clit, prompting Bambino to double down on his efforts to make her cum.
Urging Riley onto her hands and knees, Bambino slides into her tight twat from behind. The throbbing length of Bambino's dick hits every one of Riley's buttons as her moans ricochet off the walls. He pounds away at her greedy twat, hanging on to keep Riley right where he wants her until she screams the delight of her climax.