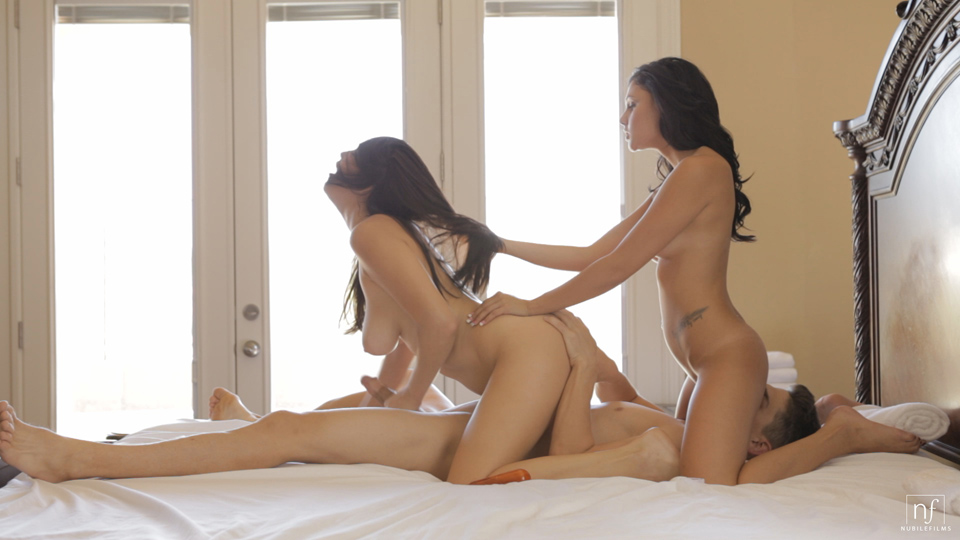 Bruce Venture and his woman Ariana Marie lie together on the bed enjoying a private couple's massage from the beautiful Holly Michaels. Holly takes her responsibilities seriously, spending plenty of time rubbing lotion into Ariana's lithe body. She takes her time with Ariana's breasts, and then breaks the masseuse code and removes her client's towel to slip her hand between Ariana's legs in a blatant invitation to turn this session into something more.
Ariana eagerly accepts, turning over at Holly's urging. The masseuse gets things warmed up right away, stripping out of her clothes and climbing onto her new lover's back to use her big tits to rub more oil into Ariana's clear skin.
Then, Holly turns her attention to Bruce. She removes the towel from his straining erect cock and climbs onto his stomach so that she can use both hands to rub plenty of oil onto his dick. Ariana is so turned on by the sight of her lover getting a handjob from her masseuse that she can't help the urge to masturbate. Her hand creeps between her legs to massage her needy clit as her eyes remain glued to the sexy scene playing out beside her.
After an initial experimental rub of her wet pussy across Bruce's well-oiled cock, Holly decides that she likes the sensation. With her hips in full swaying motion, Holly rubs herself against her man's dick and then sits up to bend forward and use her incredible boobs to create a chasm that Bruce's slicked cock can push through.