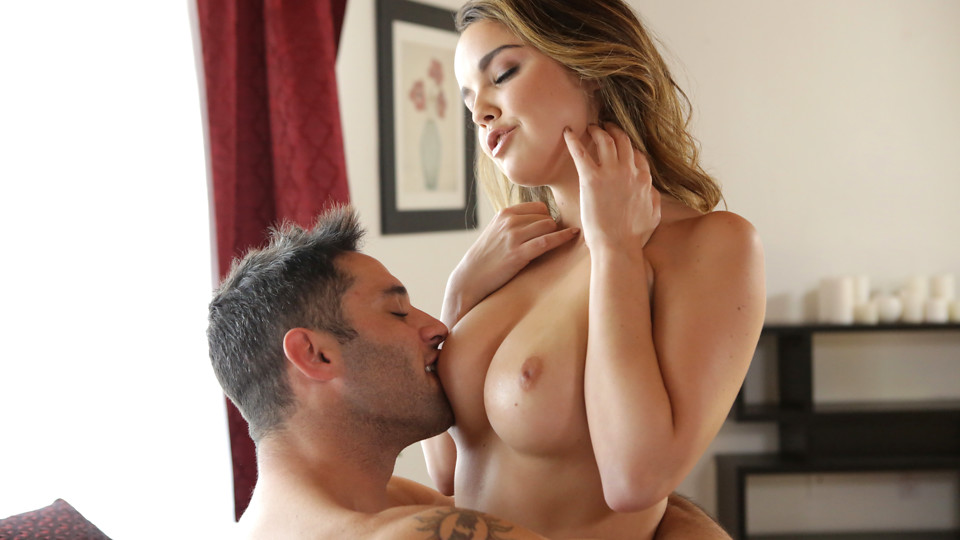 Sheer panties highlight the curve of Dillion Harper's tight ass, while a matching bra makes her big boobs into pillowy mounds. With such a buffet of hotness giving him a come-hither look, how can Damon Dice say no?
Locked in a horny kiss with Dillion, Damon reaches around to fill his hands with the globes of her rump. She responds with total passion, pushing him down onto the bed and taking total control by pulling out his stiffie and going to town licking and sucking him off. When she frees her tits from the bra that constrains them, she puts them to work by wrapping them around Damon's member and then pumping back and forth so that he can feel the warm embrace of her cleavage over every inch.
Damon is eager to let Dillion know how much he likes the titty fuck by pulling her panties down and fingering her soft twat. He finds her nice and wet, but he's still committed to eating out her juicy snatch before taking things a step further. When Dillion makes it clear that she wants to continue sucking on his dick, Damon is happy to pull her into a 69 that allows them to both express their passion at the same time.