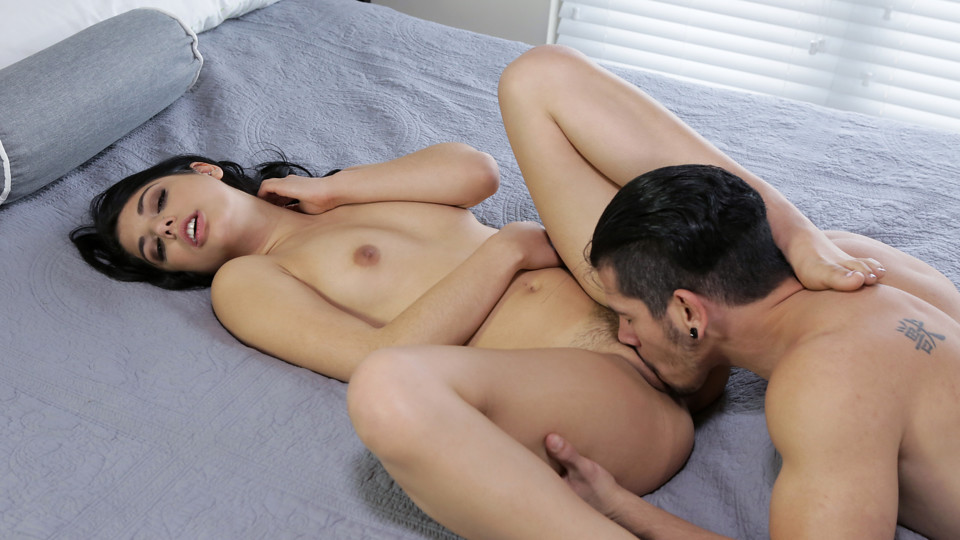 Gina Valentina walks in on Bambino where he's making a meal for both of them. In her mind's eye, she envisions herself strutting up behind Bambino and caressing his shoulders in an invitation for him to take her. Her imagination runs wild as she leans against the counter, stroking her tits and caressing her landing strip pussy while Bambino remains oblivious to her desire.
When Gina finally decides to act on her fantasies, Bambino is everything she dreamed he would be. They relocate to the bedroom, where her hands slide down to cup his big stiffie and Bambino brings his hands around to rest on Gina's ass. Sliding his hands up to relieve Gina of her bra, Bambino massages his lover's small tits as she grinds her ass against him.
Finding herself face down on the bed with Bambino tugging at her thong from behind, Gina waves her rump in a sultry invitation her lover is all too glad to take her up on. He laps at her creamy twat from behind, then flips Gina on her back so he can continue his warm ministrations. Climbing up her body, he kisses her to transfer the taste of her fuck hole.
Leaning forward as Bambino rises to his feet, Gina opens her mouth wide to accommodate her lover's hardon. She sucks him long and hard, deep throating his cock as he guides his head right where he wants her. Stroking her hand up and down Bambino's shaft in time to the slurps of her puffy lips, Gina doesn't quit until her boyfriend is nice and hard and ready to fuck.