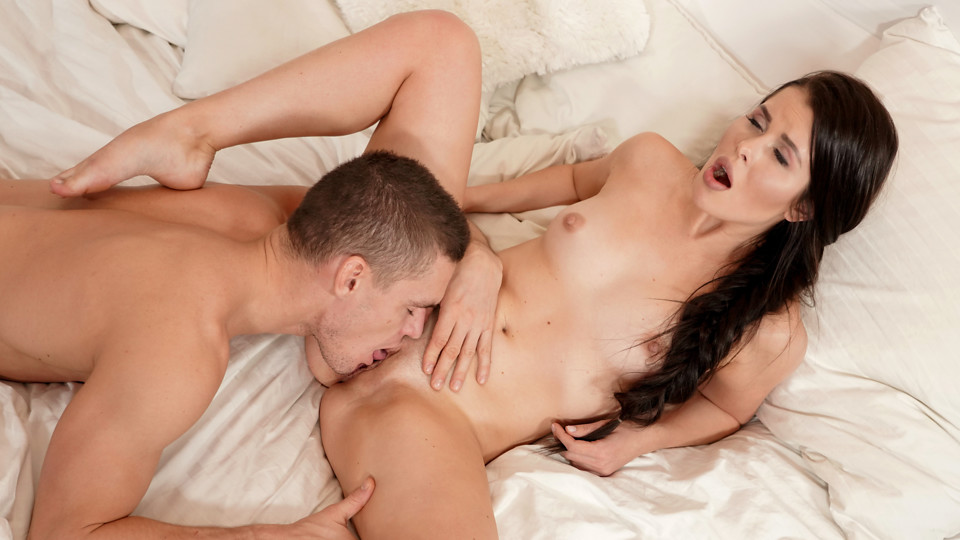 Looking hot in hip-hugging panties and a sexy bra, Cassie Fire applies makeup while Max Dior watches in the mirror. She gets a little saucy with the brush, running the soft bristles over her collarbone and down into the V between her breasts. Taking a seat on the divan with her thighs spread, she slips the brush between her thighs and then drops it so she can use her hands to squeeze her medium tits and relieve herself of her bra altogether.
Pushing her underwear aside, Cassie reveals her meaty pussy that's already damp with excitement. Her fingers know just what to do as she slides them into her slit and starts fondling her clit. Her masturbation for Max's pleasure takes a pause so she can relieve herself of her underwear. Then she sets her eyes on her boyfriend and struts in his direction with her whole body swaying thanks to her high heels.
Crawling onto the bed, Cassie locks lips with Max in a passionate kiss. Though Max would love to touch, Cassie isn't interested in giving up control quite yet. She urges him onto his back once again so she can pull out his hardon, which she can't wait to wrap her lips around. Sucking with bobs of her head that gradually become a deep throat BJ, she makes sure her love is at maximum hardness before moving on to her next fantasy.
Swinging one leg over Max's thighs, Cassie guides his hardon to the opening of her twat and slides down slowly. As she works her way down on Max's fuck stick, her breath comes in gasping moans of excitement. Her hips are thrusting long before she has fully taken Max inside. Once he's fully seated in her tight sheath, Cassie goes to town riding her personal steed.