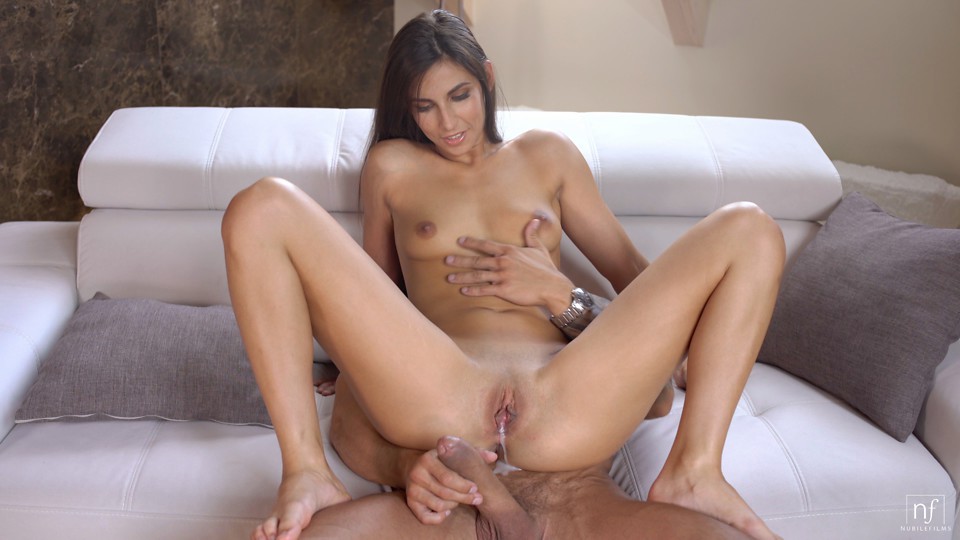 Dressed to impress, Angela Allison climbs the stairs like a pro in her mile-high heels and short, tight skirt. She glances over her shoulder to ensure that Angelo Godshack has his eyes on her, then ascends to the roof where she waits for Angelo to join her. They share a kiss, then Angelo takes Angela's hand and leads her inside to the loft so they can really explore their feelings for one another.
Bending to kiss Angela's neck, Angelo lets his hands do all the talking. They wander all over her supple body, shaping her small waist and lifting her tight skirt to squeeze her ass. When they wind up on the couch, Angela takes the opportunity to unzip Angelo's pants and pop his hardon free. Eager to have a taste, she leans in and starts stroking and sucking to accommodate the length of his cock. As Angela makes magic with her hands and mouth, Angelo reaches down between her thighs to gently stroke her silky smooth slit.
Getting on her hands and knees, Angela moans in delight as Angelo leans in to press his hot tongue to her dripping snatch. When he finds her nice and wet, he doesn't waste another moment before positioning himself against her fuck hole and sinking balls deep into that welcoming sheath. Their doggy style coupling eventually gives way to Angela laying on her back with Angelo pounding into her from above as she caresses her tits and tweaks her hard nipples.