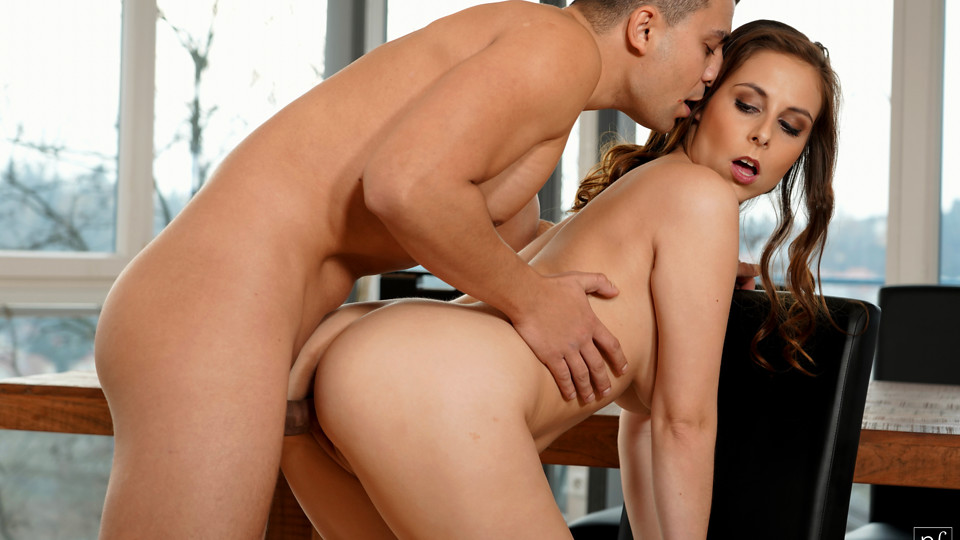 Antonia Sainz has been waiting for the handyman to arrive to fix the problem with her lighting, but she wasn't expecting such a stud! She can't stop checking him out, and as he enters her home she discreetly locks the door. When Don climbs on a chair to check the problem out, Antonia wastes no time popping his dick out of his jeans. Eyebrows raised, Don can't quite believe his good luck but he's willing to see where this train takes him.
Opening her mouth wide, Antonia takes Don's stiffie as deep as she can into her throat. She licks and sucks with slow deliberation, fucking Don with her eyes the whole time. By the time Antonia finally gets to lock lips with Din, he has peeled off his shirt so she can feel up all those solid muscles that were hiding underneath.
Antonia does some undressing of her own. She sheds her leather miniskirt and opens her shirt to let her breasts spill out before hopping onto the table. Don knows how to take such a blatant invitation; he drops to his knees and buries his face in Antonia's slippery fuck hole, then slides two fingers deep insider her nicely trimmed twat.
Finding Antonia nice and wet, Don doesn't hesitate to get up and slam his hardon home. Balls deep inside Antonia, he slides a hand beneath them to thumb her clit and ensure her true pleasure. Then he turns her over so she is spooning him on the table and reenters her from behind to a chorus of delighted cries.
When Don takes a seat in a chair, Antonia knows just what she wants to do. She slides down onto his fuck stick with her back to Don's chest, impaling herself on his hardon. Putting her feet up on Don's thighs, she starts rocking her hips in a primal rhythm that gets her moaning. All she needs to do to cum is grab Don's hand and guide it right to her clitoris.