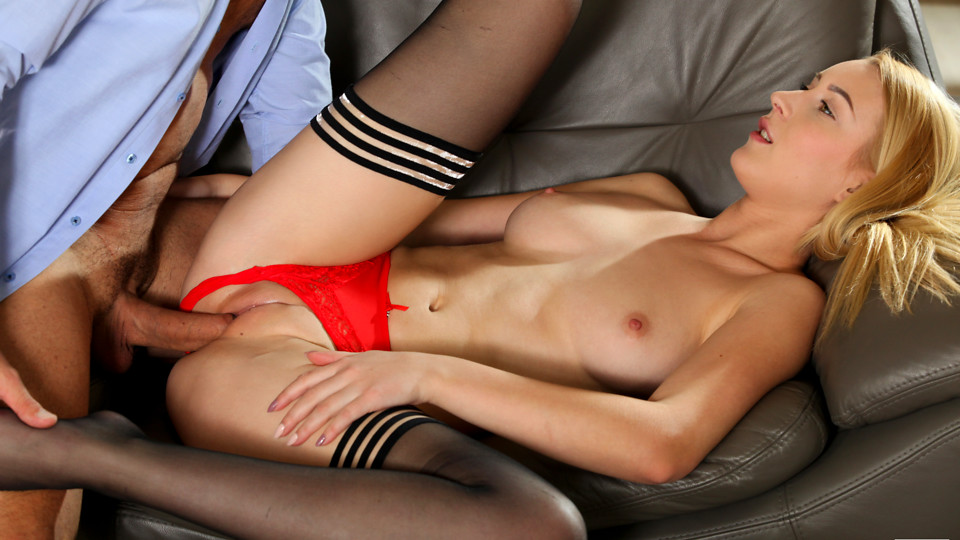 Amaris is atruly stunning in a power suit and high heels. She walks in with the result of a hard day of shopping and spots Renato on the couch. Instantly horny, she climbs on top of her boyfriend and presses her lips to his. When she is certain that she has Renato's attention, Amaris peels off her shirt and caresses her breasts in their bra before letting that go, too.
Pulling the first thing out of her shopping bag, Amaris tries on a new nightie. Then she tries on a new bra that hugs her tits. She slips out of her thong and puts on the matching underwear. Now that she is wearing her brand new outfit, Amaris pops Renato's stiffie from where it's straining against the fly of his jeans and slips it between her lips. She's all smiles as she sucks him off, enjoying every draw of her mouth against the velvet steel of Renato's erection.
Renato isn't about to let Amaris have all the fun. He relieves her of her new bra and slides his hand down her panties as he enjoys the bounty of her tits. When Amaris's nipples are hard peaks, he moves his face lower on her body to sample the slippery musk of Amaris's pussy juices. She is nice and wet, easily taking in Renato's exploratory fingers and then his hard dick.
Curling up behind Amaris, Renato spoons with his lover while his hands roam her hot body. She lifts her leg high into the air as Renato pounds away at her, moaning in delight at the new angle. When Renato's hand finds Amaris's clit, he fondles her until she's gasping for breath with the force of her climax.