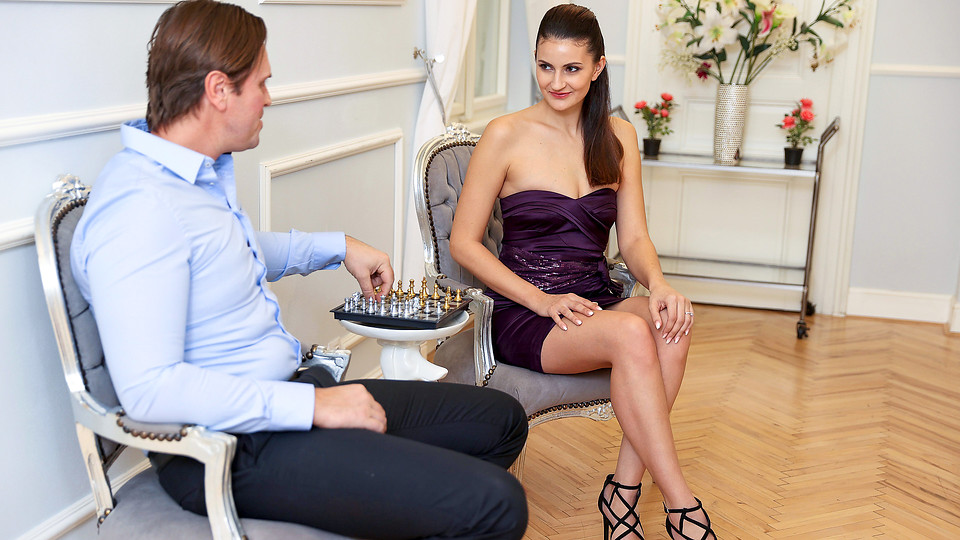 Tiny Tina takes her time getting all dolled up for a night out with Thomas Green. While Tiny Tina is getting her pretty on, Thomas waits patiently. The payoff is worth it when Tiny Tina struts out of the bedroom looking fine and fuckable.
The couple still has some time to kill before their dinner reservations, so Tiny Tina takes her seat opposite Thomas for a game of wits. They move the pieces for a few minutes, but Tiny Tina has another pastime in mind. She makes her intentions clear to Thomas, who welcomes her into his arms so that he can sample her lips in deep kisses and her breasts with his hot mouth.
Since Tiny Tina is already seated in Thomas's lap, she can feel the hardness of his erection. She can't help herself; she discards her dress and then sinks to her knees so that she can pop that stiffie out. Grasping Thomas's fuck stick at the root, she opens wide to deliver an enthusiastic, sloppy BJ that sees plenty of deep throat action.
With his hot girlfriend already naked and willing, Thomas isn't about to keep his dinner reservations. Instead, he gets to his feet and lifts Tiny Tina so that he can seat her on his cock. Their standing fuck continues as Thomas presses Tiny Tina's back to the wall. When he takes a seat in the chair, still firmly impaled, Tiny Tina takes up the mantle of pleasure by riding him with slow, deep strokes of her hips. Turning around, she happily bounces away on the D.