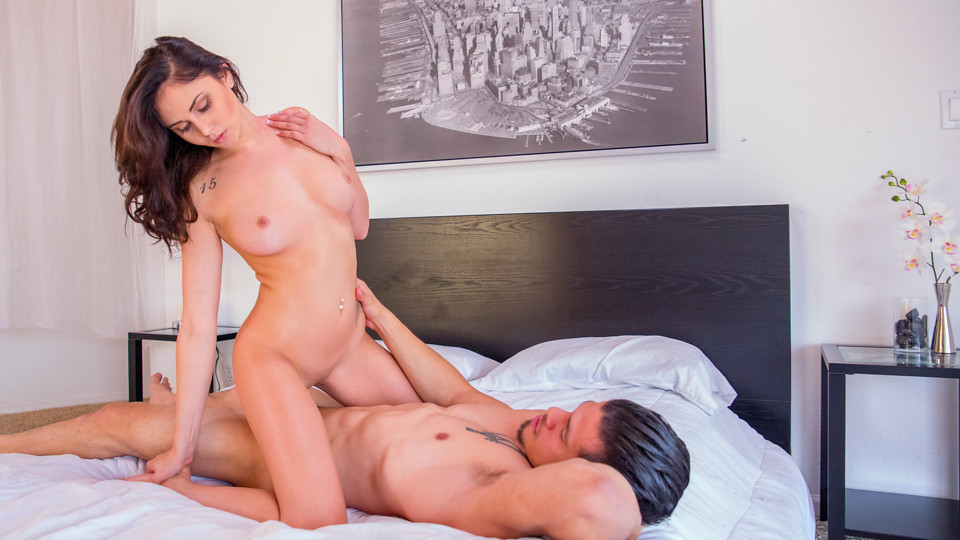 Busty babe Ariana Marie shows off her tight body in a matching bra and g-string that serve a single purpose: to tease Bambino into ravishing her cock craving body. The horny nubile performs a sultry dance that captures Bambino's interest and then struts forward so that she can capture his lips in a kiss that promises so much more.
With her soft boobs leading the way, she works her way down Bambino's body and pulls his cock out from his briefs. Within a matter of moments she has licked her way up the shaft of his dick and then taken his cock into her warm eager mouth. Using her hands and soft tongue to supplement the warmth of her mouth, Ariana delivers a blowjob that Bambino won't soon forget. It only gets better for the brunette beauty when Bambino pulls her around so that her pussy is planted in front of his mouth for a languorous 69.
When Bambino turns Ariana around and slides into her for spooning sex, her sigh of pleasure is audible. He takes things slow to start, filling her with long slow strokes that soon speed up until Ariana's boobs are quivering with the force of his thrusts.
Rolling onto her knees, Ariana positions herself for a doggy style pussy pounding. Bambino holds nothing back as he goes to town on her bald snatch. He even slaps her ass a few times, and each time his palm meets Ariana's bottom she groans her approval.