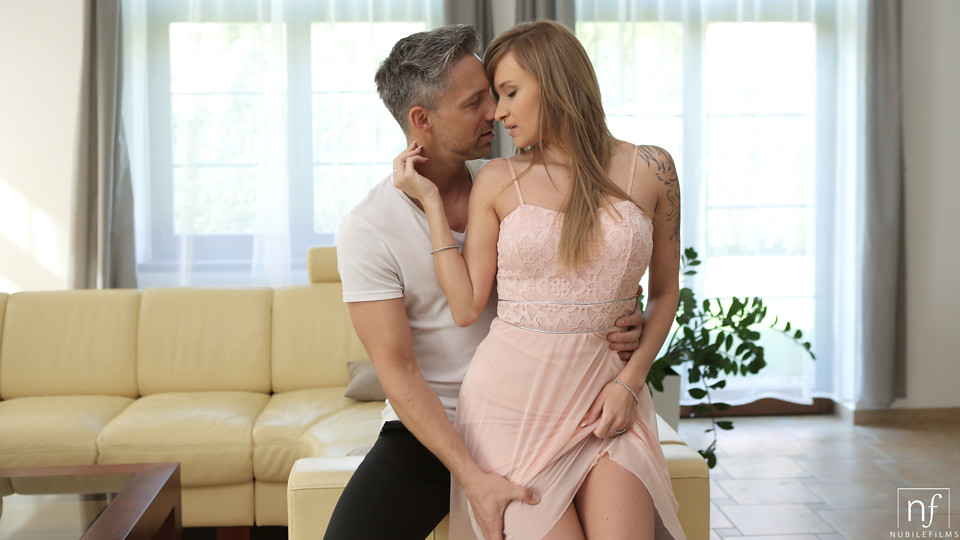 Angel Piaff and Lutro enjoy a sweet moment outside beneath the blossoms of a cherry tree. Their laughter turns to sighs of excitement as Lutro give Angel a hug and then leads her inside. By the time they reach the couch, Angel is all turned on and ready to play the sultry game that Lutro has in mind.
Lifting Angel's skirts to cup her bottom, Lutro starts the process of undressing his hot coed. Soon her miniskirt dress is gone, leaving her in just her panties. Another kiss between them, and then Lutro slips his hand into Angel's panties. Angel rides the wave of pleasure for a moment and then backs off to take a turn helping Lutro out of some of his clothes.
The moment Lutro's stiffie springs free, Angel wraps her hand around the hard shaft and starts stroking. Shoving him down on the couch, Angel climbs on top of him and wraps her lips around his dick. Her long slurps and gentle suction really get Lutro's motor running as they each lose themselves in their mutual passion.
Flipping onto her back, Angel sighs with pleasure as Lutro works her soft twat with his tongue. When he gets up on his knees and replaces his warm mouth with his fuck stick, the horny blonde can't help but voice her excitement. Her cries of passion grow louder than ever when she gets on her hands and knees for a doggy style pussy pounding.