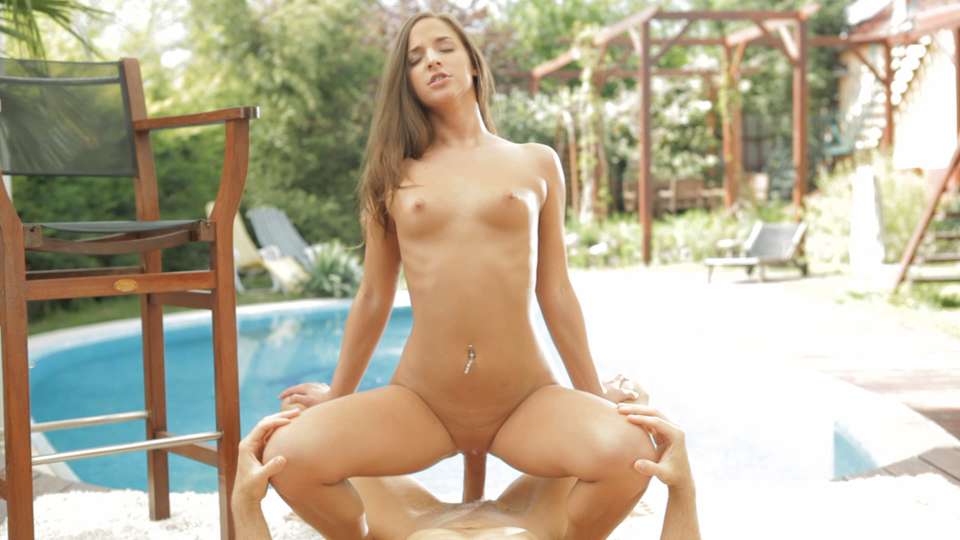 Amira Adara enjoys the warmth of an outdoor shower while her lover Totti watches, growing hornier by the second.
The couple doesn't waste time when Amira finally approaches her man, exchanging a lingering kiss before Totti goes down on his knees to eat his woman out from behind. He takes his time, clearly enjoying himself as he shapes and squeezes Amira's firm ass with his palms. As the sun warms them, Totti's gradually includes his woman's puckered anus in his tongue bath.
Soon Amira uses two fingers to test her wetness and the couple determines that she is ready for sex. The brunette wants to make sure that her beau is equally hot and horny for a raunchy fuck, though. She opens her mouth wide and takes the head of Totti's hard dick into her warmth, licking and sucking him with smiling enthusiasm.
Replacing her mouth with the warm slide of her dripping pussy, Amira sinks down onto her guy's erection and rides him hard. Wishing to change things up, the brunette slides her slick slit over her man's cock for a different kind of stimulation before returning to her previous bouncing.
Totti takes his woman from behind next, pumping into her doggy style and slapping her perfect round ass. Amira loves it, writhing and moaning beneath him as she submits to her man's possession.