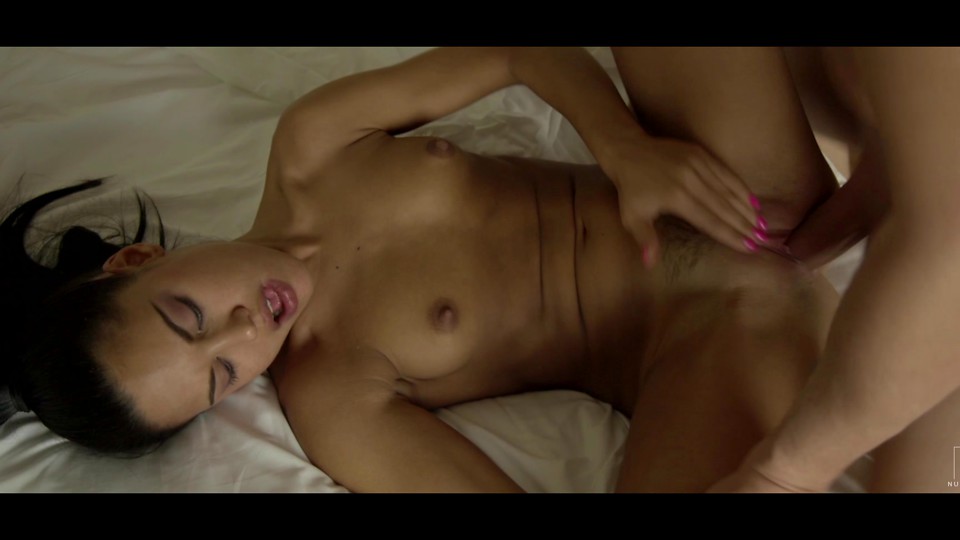 Apolonia Lapiedra joins Alberto Blanco in the shower for some one on one time with her lover. Getting down on her knees, she takes her lover's member in her mouth and gets to work sucking and rubbing Alberto's cock. When he has had enough, Alberto turns off the shower's spray and lifts Apolonia to carry her to the bedroom.
Laying Apolonia down on the bed, Alberta dives in to her landing strip twat with soft licks and gentle nips of her delicious slit. Taking his time, Alberto makes sure that his lover is dripping wet before moving on to his heart's true desire and sliding his cock deep into Apolonia's creamy snatch. Apolonia loves every moment of Alberto's long strokes, as evidenced by her loud moans of pleasure.
Getting up on her hands and knees, Apolonia grins as Alberto smacks her lush ass and then slams into her from behind. Their doggy style coupling is just what Apolonia needs to get off, and her pleasure is only heightened by Alberto's grasp around her slender neck.
Pushing Alberto onto his back, Apolonia climbs up onto his stiff rod and wastes no time kicking off a lusty stiffie ride. Her enthusiasm only grows as she continues to work her hips and enjoy the feeling of fullness that only her lover's dick can give her. As her whole body convulses with ecstasy, Apolonia can't stop from leaning forward to give Alberto a long kiss.
Falling onto her back, Apolonia spreads her legs to invite Alberto back inside. When he lets Apolonia know that he's getting close to cumming, she tells him that she wants to see it. Ever obliging, Alberto pulls out at the last second and covers Apolonia from face to pussy in cum to leave her smiling and satisfied.